K-Epslion Turbulnce Model

The equations of the stated model will be added in this section, for the now you can rely on the provided link below.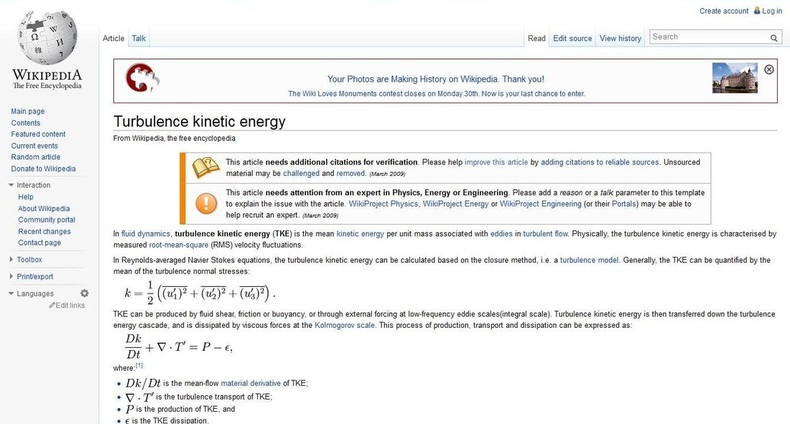 Another helpful link: http://www.lboro.ac.uk/departments/cv/staff/docs/227/ch4/ch4.pdf
http://personalpages.manchester.ac.uk/staff/david.d.apsley/thesis/Chapter4.pdf
http://www.cfd-online.com/Wiki/Two_equation_turbulence_models

---
K-Epslion Turbulnce Model in Porous Media

Under Construction.

---
The Postive Points for the K-Epslion Model

I am very much thankfull to Dr Khalid Saqr for his contribution, that is by stating the postive points of the K-Epslion model:

I find several reasons for the k-epsilon model to become "popular" in comparison to other eddy viscosity models, these reasons are:

1- It is mainly devised for high-Re fully developed turbulent flow, such flow is manifested in the majority of engineering problems.
2- Literature records are crowded with thousands of successful CFD calculations, in nearly all industrial/engineering problems, using the k-epsilon model. Therefore, fluid dynamicists always "give it a try" with the k-epsilon when they tackle a problem for the first time.
3- It converges easily in most commercial FV codes, even with higher order numerical schemes.
4- There are several variants of the k-epsilon model, which are fine tuned and corrected for specific engineering problems. Shih's realizable k-epsilon, Richardson number corrected k-epsilon are popular examples.

However, it should be noted that the coefficients of the k-epsilon model are not universal, i.e. they should be fine-tuned for different flow configurations. There are several approaches to fine tune these coefficients. The easiest way is to use experimental data. A more rigorous way would be devising variable expressions for these coefficients using dimensional analysis. The use if genetic algorithms is a promising prospect for fine tuning the model coefficients as well.


---
Useful Links

http://www.cfd-online.com/Wiki/SST_k-omega_model
http://cdlab2.fluid.tuwien.ac.at/LEHRE/TURB/Fluent.Inc/v140/flu_th.pdf
http://cdlab2.fluid.tuwien.ac.at/LEHRE/TURB/Fluent.Inc/v140/flu_th.pdf
---
Unless otherwise noted, all content on this site is @Copyright by Ahmed Al Makky 2012-2013 - http://cfd2012.com