One Dimensional Shockwaves

The Mach number is a dimensionlas number named after the Austrian scenetist Ernest Mach, it is the ratio of of the measured flow velocity at a point over the speed of sound at that point.


The speed of sound is related to the physical paramteres of the studied gas at that point.


The picture below shows a shock wave moving, with the velociy represnted in U and after the shock wave there is a velociy U with the addition of delta U.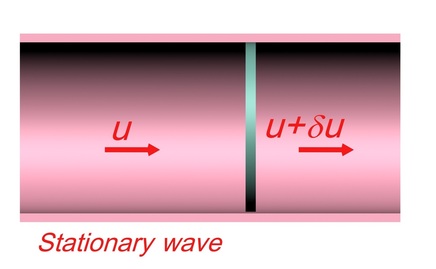 The vortex ring seen before the shell leaving the gun nozzel. The mass of air that is travelling before the projectile can be regarded as a moving piston, due to the cooling process of the air while traveling at the high speed ahead of the projectile it holds water mostuire once it reaches the outer atmosphere after leaving the nozel it condense as a vapour and with the use of high frame rate cameras the mosture condenss.

Shock Wave Lectures
A lecture on one dimensional flows
---
Unless otherwise noted, all content on this site is @Copyright by Ahmed Al Makky 2012-2013 - http://cfd2012.com