XFlow CFD

XFlow software uses the Lattice Boltzmann Method (LBM). There is a difference between solving the Navier –Stokes Equations and the LBM method. The Navier-Stokes equations are solved to calculate the transfer of momentum in the x,y and z directions for a specified domain. Mass conservation is achieved through the use of the continuity equation.
The LBM method solves the equations using statistical mechanics tools, this is where more of the thermodynamic properties of the gas are considered, the LBM method doesn't require a mesh and as I recall that it uses the meshless method. The Navier-Stokes equations are easy to implement on simple geometries but the challenge comes when complex geometries are studied. This is when commercial software are much easier to use than writing a code to resolves complex geometries using tensor calculus tools. Mesh generation is another complex area of science that will really wear you out as a programmer. LBM is powerful in dealing with complex and moving bodies as I have seen simulations run by a software called XFlow. I see that the LBM method will be used more in future. I Know its good for studying rare gases. I have no knowledge how the LBM performs in high velocity flows, I know it can be used for subsonic flows as shown in the following video.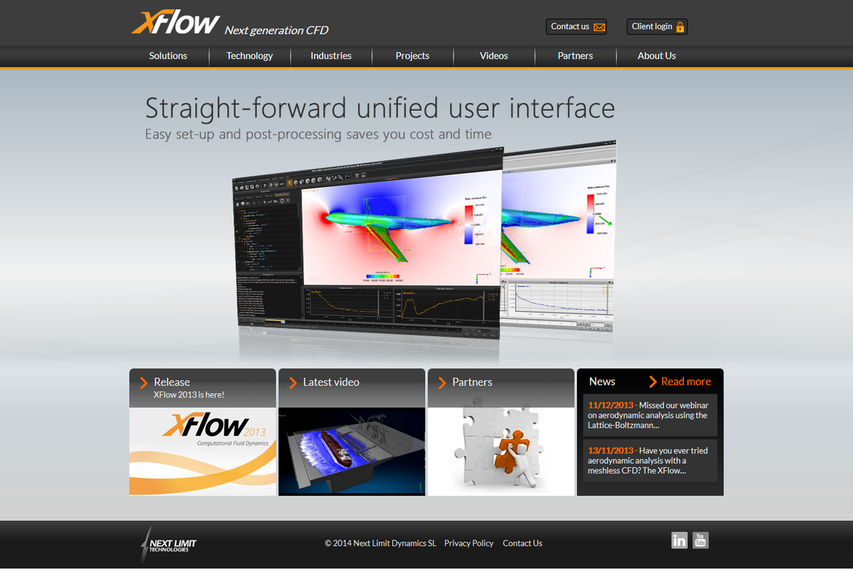 XFlow - UCAS Carrier Approach
XFlow software is a new software that uses the Lattice Boltzman equations to solve flow problems. The following video shows the simulation of a UAV landing trial on unsteady aircraft land deck of an aircraft carrier.
The rate of development of CFD software packages is just unimaginable. You just come to the conclusion is you dont know what to expect of calculation options in the coming future.
---
XFlow-Dynamic Mesh Simulation
You got to love the volume rendering the software has.
---
Unless otherwise noted, all content on this site is @Copyright by Ahmed Al Makky 2012-2015 - http://cfd2012.com