ANSYS-CFX Turbine Cooling
Important notes
1- All tutorial geometries are available: You can contact me by email: almakky@hotmail.co.uk and the mesh will be sent to your email account.
2- Please don't send me an email asking me to send you tutorials, what is available has been uploaded on the website.
3- I would very much appreciate any feedback about the tutorials, and your contribution will be stated in the tutorial, I plan to update the tutorials.
---
Simulation Inputs
1- The inflow velocity components U*cos(theta) and V*sin(theta).

2- Blade surface temperature taken from the combustion chamber temperature.

3- Second part of the project is to find the material type used to take radiative affects onto the blade.

4- Then once the heat distribution in the solid has been simulated.

5- Then comes stress distribution based on the produced lift and thermal stresses, from this you can find regions of high stress concentration.
In summary several ANSYS packages will be used and not one.
---
Project Objectives
1- To detect high temperature regions and to see if they can be tackled either by inner cooling or by forced convection methods through the use of cooling holes.

2-To quantify the required thermal load that needs to be removed from the blade surface in order to preserve its material characteristics and .

3- From stage 2 you can fin the require pressures needed for the cooling air going into the turbine, leading to flow rates and cooling air temperature taken from the compressor by pass.
---
Film Cooling
The importance of film cooling. Still to be written.
---
Results
The inner cooling cavities inside the turbine blade.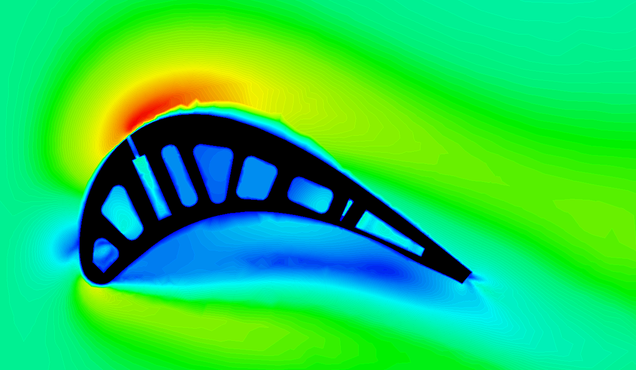 The air cooling holes on the turbine surface for the convective cooling process.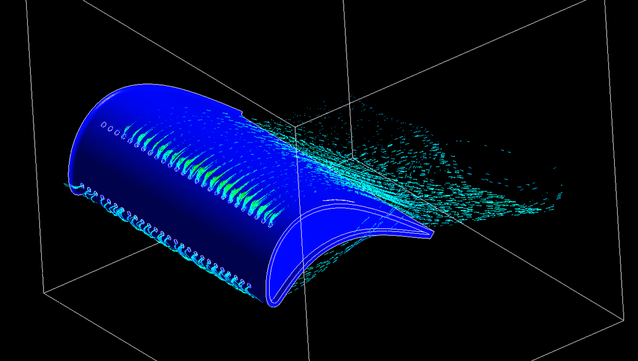 ---
Recommended Reading List
---
Unless otherwise noted, all content on this site is @Copyright by Ahmed Al Makky 2012-2014 - http://cfd2012.com