Attending Regular Seminars at University

Go to seminars for a couple of years (3 years minimum) in order to see some patterns and gain some skills:

1- You will see reputable academics wanting to get ideas of inspiration from undergraduate students.

2- You will see some academics who have come to interact with other academics in order to find research exchange.

3- You can try introducing your self to the visiting academic after the seminar its a good opportunity for you to market your self as a competent researcher in his research area.

4- You will see how researchers present their work. Try to be a critic and see how would you have done the seminar if you where in his place.

5- You will see what skills they have to persuade others with their developed ideas and how do they present their data to others.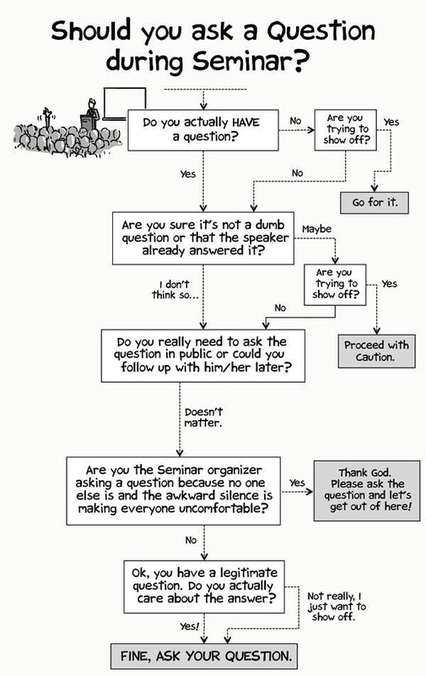 ---
Regular Patterns in Seminars

These are usually the funny patterns
1- You will see academics sleeping.

2- You will see researchers not wanting to share Knowledge.

3- You will see the same faces all the time asking questions some times to a boring extent.

4- You will see people drawing and scribbling.

5- You will see some people checking playing with their mobile and checking their emails.

6- Others will come to have a free snack.

7- You will see some times the researcher hasn't prepared for the presentation and that's what makes attendees to get board. Because they cannot follow and understand what the researcher is trying to present.

8- You will see some people who always come late to the seminar and making some disturbance. Some who dont switch their mobiles off or dont know who to do so.

---
Unless otherwise noted, all content on this site is @Copyright by Ahmed Al Makky 2012-2013 - http://cfd2012.com