CV Requirements (Check List)

The following check list can provide you with the needed information on how to present your CV:

1. Before submitting your application, please read all the information relating to the post. You should refer to the advert, job description and person specification. The criteria contained in the person specification are used for shortlisting so it is essential that you provide evidence/examples to demonstrate how you fulfill the criteria under the various headings (ie. qualifications, experience, skills/knowledge/understanding, personal qualities etc.)

2. Please look at each of these headings and give evidence to show how you match the requirements specified.
You may do this by either: -
a. Sending a covering letter/supporting statement along with your C.V.
b.Including the information in your up-to-date C.V.
(Additional note for academic and research staff only – you may wish to describe your experience under the sub-headings of: teaching, research, industrial/professional/consultancy, managerial and administrative. Please list details of publications or grant income on a separate sheet(s) where appropriate).

3. Please include a statement of your career aims/ambitions and the reasons for applying for this post.
It would be helpful also if you could list your main achievements in your career to date (bullet points will suffice).

4. When providing details of your employment history, please list your present (or most recent) employer first, with name and address of employer and date of commencement (or date of leaving).

5. References – please provide details as requested on the application form.

What Universities Ask the Referee
Writing the reference The University would like you to consider the following points when composing your reference:
In what capacity have you known the applicant, and for how long? For previous students or employees, please also indicate how long ago.
Assess, as appropriate, the applicant's abilities in terms of:


1-analytical reasoning.
2-ability to grasp concepts.
3-ability to work independently.
4-ability to argue cogently.
5-originality.
6-industry.
7-motivation.
8-perseverance.
9-breadth of interest.
10-technical competence.


Comment, as appropriate, on the applicant's responsiveness to supervision/mentoring; responsiveness to constructive criticism, capacity for self-evaluation; ability to work with others; ability to organise work.
Comment on any academic or professional experience that you consider relevant to the qualification applied for.
If appropriate, indicate how confident you are that the applicant is likely to complete successfully the qualification aimed for. Please indicate how strongly you are supporting this application: not strongly, strongly or very strongly.
If appropriate, comment on any postgraduate study or other forms of training already undertaken or in progress.
Your reference may also be used to support a scholarship application. Where appropriate, please also comment on a candidate's suitability for an award.
For academic referees
If the applicant has yet to graduate, please indicate the degree result that, in your opinion, would most accurately reflect the applicant's abilities.
If possible, indicate the applicant's ranking compared to other students on the same course or compared to other students you have taught (for example, 4th in a class of 60 students; in the top 15 per cent of students taught).
For non-academic referees
Please indicate how long the applicant has been/was working within your institution or organisation. If possible, please rate the applicant's performance compared to peers at the same stage of career.
If possible, indicate the applicant's capacity to undertake new projects or pieces of work and their promptness to respond to these.
---
Job Inquire Email Format

This is a simple format that I use for job correspondence and scholarship inquires.

Dear (X),

I am writing to introduce myself as well as make inquires about research fellowships and/or teaching position at your institution. I have had the opportunity to look at programs and research profiles in your institutions which happen to fall within the areas of my interest and competence. I am in the last few months of my PhD program at the Center for (X) at the University of (X), (City), (Country). (University name) is one of the top ten leading research universities in the (Name of country). My research is primarily in the area of (X), i attach a small CV full info is on my university web site (http://www.Name_of_Website.com). I would be grateful if I am considered for any fellowship/teaching opening in your institution.

Kind Regards

(X).


First_Name Surname
Room (X)
Building Name
Center for (X)
University of (X), (X) Road
(City), (Post Code)
(Country)
Phone : +44 Pone_number
Email : XXXXXX@XXXX.ac.uk
Web: http://www.XXXXac.uk/
---
Offering your Skills by Email Format 1
Dear <Name>,

I wanted to reach out to discuss potentially Career. I'm a fresher Mechanical Engineer and currently seeking for opportunities in field of " Mechanical design and analysis Department". I'd love to discuses about whether my background might be a fit for any of your openings, and I'm happy to connect you with other professionals in my field. You may also refer my linkedIn page have all my details.

Given an opportunity, I believe, I could make significant contribution to a firm also willing to relocate . My contact telephone number <contact number> alternatively by e-mail <email address> . you may also refer my linkedIn page have all my details.

Looking forward to hearing from you,

Best wishes and Regards,
<Name>
---
Offering your Skills by Email Format 2
Dear <Name>,

I am contacting you out of good faith to explore any existing research opportunities to work with you. I have looked through your profile and have seen that my skills put at your disposal can be of great help in the <> sector of <> and <>. I have a PhD from <> University specialized in <> backed up with 4 years of industrial experience at <name of company>. I have also several publications in well-known journals in addition to working on submitting a few more in the coming months. Further details and CV can be provided upon request.

Kind Regards

<Name and surname>


---
Preparing to come and study in the UK (University)

I will talk about skills that student needs coming from the middle east. The students find that they don't have the tools required to know Microsoft office from how to make a presentation to plotting experimental data using excel.

Translate the required documents, these are:
1-Secondary school documents.
2-High school documents.
3-Scan them.
4-You will need to have a TOFEL or an IELTS certificate, if you don't then they will require you to do one at the country of intake.
5- They will require you to show that you have a sum of money in your bank account.


I will at a later stage type also the instruction in Arabic for students coming from the middle east
---
How Easy will it be to Find a Job or a Scholarship?

Remember there are lots of jobs out there. Networking plays an important role in getting a job. Making yourself known also contributes to increasing your chances of getting a job. You need to always keep in mind that you have to keep trying and not to give up. You need while applying for a job to keep your time table full. That is through developing your skills, and also working on your Body fitness.
1-Always have in mind that you will not get a job from your first interview.
2- Humans are competitive in nature and will never tell you exactly how they got their job.
Try to always contact the academic who has the scholarship or Post doc position or somebody from inside the company before you fill in an application, due to that application forms are long demanding and frustrating to fill, also due to that sometimes the candidate has already been selected but they have to advertise to the position. By clarifying that the institution is interested, this through getting an email reply from the HR or if you get the chance to talk to the person in charge, once the conservation is unclear and you get general answers this means he is not interested but he has to advertise for the position. This hint is just to focus your strength on more potential job opportunities.
Always have a pure noble goal in your life for a job and from there have faith in god that he will help you. A pure goal means you intended to develop people make them better make them happy live with people in harmony, to get a job to support your family your parents...etc.
Having a good CV that fits the job description for the advertised job.
Here i provide a CV word file format
, You just need to modify the CV details to something that mimics your requirements.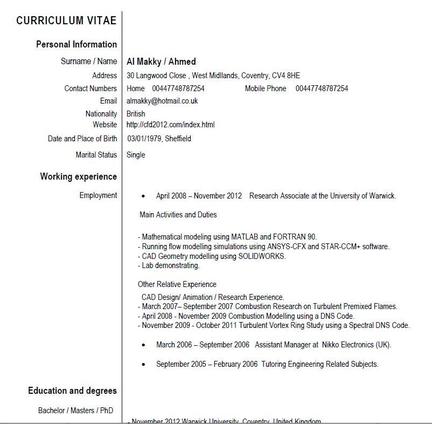 ---
Head Hunters

Some times job agencies can really help you in getting a job by leaving your CV with them especially when you have a very specialized area of research that not a lot of people know about. That is because they have already established links with HR departments of companies.

---
Job Interview Does and Donts

Reading these points and having them back on your mind is essential.

Things not to Do in an interview

1- Don't arrive late to the interview.
2- Smoke during the interview.
3- Drinking fluids throughout the interview.
4- Try to not look nervous.

Things to do

1- Wear a suite to the interview, this shows that you are serous for the advertised position.
2- Try to answer the interviewer's questions.
3-Maintain eye contact through the conservation.
---
Unless otherwise noted, all content on this site is @Copyright by Ahmed Al Makky 2012-2015 - http://cfd2012.com