Preparing a Presentation

Preparing for a presentation is something that a student will encounter frequently during his PhD. Knowing how to get the idea to the other side in the simplest way needs preparation and practise, and with training the process of preparation will become faster and faster.
1. Gather the material that you intend to present, this can be experimental: pictures, course notes, references, handbook, etc.
2. Start writing your notes by asking yourself questions and then answering them. A sample of the questions:
(a) What's the objective of the presentation?
(b) Who is this presentation aimed for, students, researchers, conferences, etc.?
(c) What kind of detail am I willing to present (mathematical derivations or just writing the formulas)?
(d) Do I have to present any graphs?
3. Answer the questions on paper, this might seem hectic but with progression of time you find it will kick off.
4. Once you have answered the questions on paper. Look for the points that need clarification. This is done by reading what you have written out loud.
During the process look at yourself in the mirror. While your reading you will notice that some points need a graph of some kind of illustration especially when the description is related to some complex process.
5. After adding the illustrations, add some more descriptive material in written form.
6. Now you have the material ready to present, see how much time have you been allocated to your presentation, let's say its 10 minutes. That means you need 10 slides, based on the initial assumption of one slide per minute, excluding the first slide and the last slide.
Web link for an online timer.
7. Start power point and select the presentation form that you see suitable for your needs.

8. Start adding the figures ,illustrations and points to each slide .

9. Transfer the written material you have written to the bottom section of power point, so that you can read from it.

10. Set your stop watch and start reading your presentation, once you finish stop the time.

11. Conduct a test presentation and ask a member of your family, friend or a flat mate to listen to you even if he does not understand in your field his feedback can be very helpful in improving your presentation and making it more understandable to your audience.
Presentation Donts
1- Do not read directly from the slides continuously.

2- Do not overlap the time pre-specified for you to present in.

3- Do not try be over active and make alot of movements while presenting that wouldn't cover for the lack of content in your presentation.

4- Do not write to much equations or text that can be very boring for attendees.
Presentation Does
1- Using short descriptive videos are good.

2- Try to move about and describe plots is very good.

3- Reading values from tables is good when backing up a stated idea.

4- Use images to describe ideas instead of text.

5- Try to practice it many times that can drag people to flow with you during the presntation.
---
Ready PowerPoint Presentation 1
Here is a power point presntation I did to present some of my thesis data for an alocated 20 minutes talk.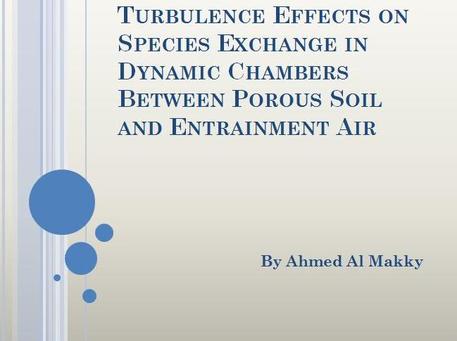 ---
Ready PowerPoint Presentation 2

The following powerpoint presntation is a 7 minutes one I conducted for a job interview in the arospace sector. It is good to write before each slide what you intend to say. Then you practice what you intened to say to you find your self confident enough to do it.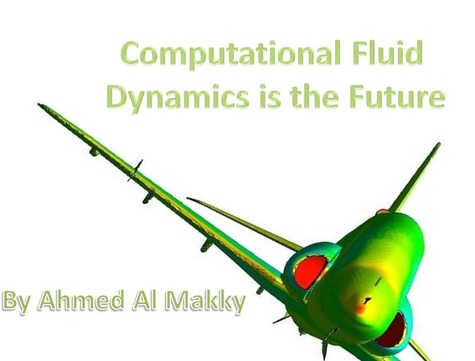 What questions was I asked? I was asked by three people, the first was to verfiy if I can do the task, the second person task was to verfiy if I was some one who was producing research and my thesis was related for the adverstised postion. The third persons task was to verfiy if I had any adminstritive skills.

---
Standard Power Point Presentation Format

The material will be added for both a lecture presentation or a conference presentation.
I have noticed that the researcher might need to know how to use photoshop which would be used to construct the presntation slide picture. A color gradinet image is used at first a sample is shown below.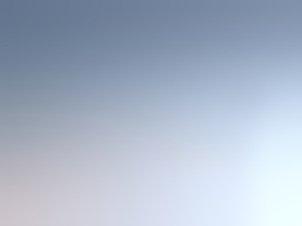 Then some pictures relating to the problem are added, remmber to add the images in a way to merge in the rear picture.
At the top of the slide it is visible that the instituation, University and other collaboraters logos are put up.

The researcher needs to know how to use the graphical tools provided by powerpoint to do some scentfic presntation linking the geometry of a problem with mathematical formulations.
---
Presentation Humour

These show what kind of issues that come up during a presentation.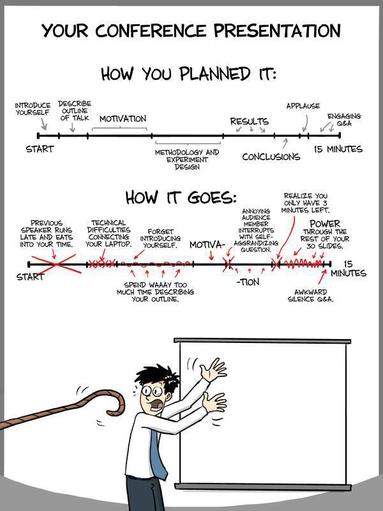 I found this expresive to what usually people encounter during a presntation. ( I found this on the net but didnt know who did it so, if you know who did it please tell me to refferance it).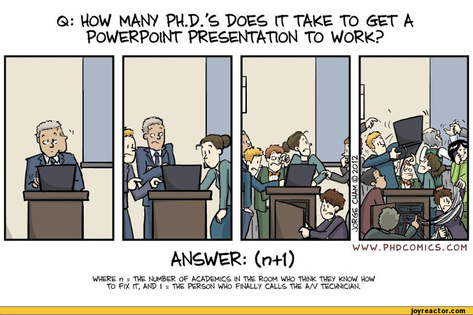 ---
Online Presentations on CFD
---
Under Construction.

---
Unless otherwise noted, all content on this site is @Copyright by Ahmed Al Makky 2012-2013 - http://cfd2012.com